Debating Matters - National Finalists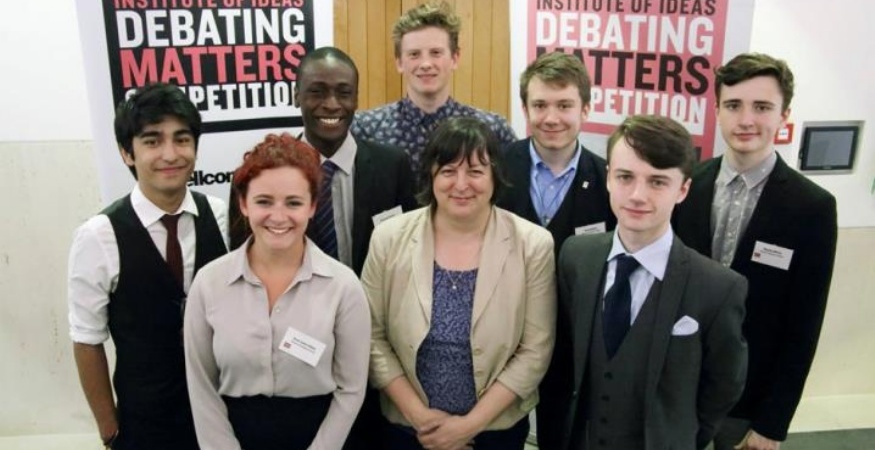 It was a hectic weekend at the Debating Matters national final.
It was a hectic weekend at the Debating Matters national final. The team went down on Friday and after checking in to our accommodation, one of the Halls of Residence for University College, London (a good preparation for University life) we went along to the British Library for drinks and canapés and a private view of their exhibition: Art and Anarchy. We then walked along the south bank before retiring for the night to prepare for the next day's debates. Anna and Anil argued that commercial surrogacy was exploitative, the judges including Vicky Price gave them a hard time in the questioning round but they responded well; Anna gained a commendation certificate for her speech and subsequent questions. Next Chavonne and Alex (who was a last minute substitute after another member of the team spent the morning in University College Hospital) were arguing that unpaid internships were not exploitative. They were up against the eventual runners up and they competed very well but were pipped by Graveney School who were previous winners. In the evening we all went for a pizza and enjoyed a balloon debate on the subject of where you should go before you die; suggestions ranged from Montreal and Malta to a mass protest and the fourth dimension. The eventual winner was BBC correspondent Humprey Hawksley arguing for Mumbai. The next day saw two further debates on humanitarian intervention and medical records being freely available. The eventual worthy winners were Franklin College, Grimsby in a final chaired by Claire Fox with judges including Timandra Harkness and the chief executive of UCAS. It was a great weekend and the team acquitted themselves so well in what the Times called 'the toughest debating competition in the UK'. We are now filling in the forms for next year's competition.