Arkwright Engineering Scholarship
Arkwright Engineering Scholarship
PRESTIGIOUS NATIONAL ENGINEERING SCHOLARSHIP AWARDED TO YEAR 12 STUDENT, TOM BAXTER.
Tom Baxter, Yr 12 has been awarded a sought-after Arkwright Engineering Scholarship that identifies him as one of the country's future leaders in engineering and technical design.
The renowned Arkwright Engineering Scholarship provides students with a £600 financial award to enhance their A level studies and a range of activities to enhance their understanding and experience of engineering. Alcester Grammar School will also receive £400 for each Scholarship awarded to one of its students. The Scholarships are respected by leading universities and companies and are supported by top engineering employers and organisations such as Rolls-Royce, BAE Systems, National Grid, Balfour Beatty, Microsoft Research, Thales, The Royal Air Force, The Royal Navy and the Institution of Engineering and Technology. The Scholarships are also funded by charitable donors including, principal donors The Reece Foundation, The Lloyd's Register Foundation, the Gannochy Trust, the Dulverton Trust, the Emmott Foundation and S.F.I.A Educational Trust.
Tom had to successfully complete a rigorous selection process consisting of a detailed application form, a two-hour aptitude exam and an interview hosted at a top engineering university.
The aptitude exam tested candidates' flair and originality in solving engineering design problems. At the in-depth interview, candidates were asked about their career aspirations and had to discuss an engineering project they had conducted. During the interview day the candidates took part in a team exercise to solve a hands-on engineering problem working with students they had never met before. Candidates and their parents also toured the engineering facilities at the host university and explored the diversity of engineering and related design careers and their importance to the UK economy. The Scholarship will be formally presented at a prestigious ceremony supported by The Institution of Engineering and Technology later in the year.
Dr Martin Thomas, Chief Executive of the Arkwright Scholarships Trust said: "I am delighted to see an Alcester Grammar School student secure this prestigious accolade. Clearly, there is considerable technical talent in the Warwickshire area. With the competition for awarding jobs becoming ever-more fierce, the receipt of an Arkwright Engineering Scholarship can help dynamic young people at the start of their journey to be the country's future leaders in engineering and technical design."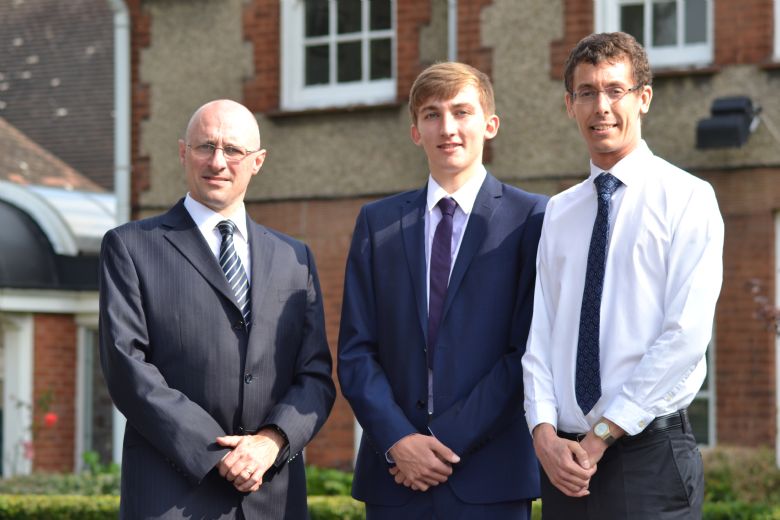 Tom is pictured with Principal Clive Sentance and A Level Physics teacher Adam Knights.